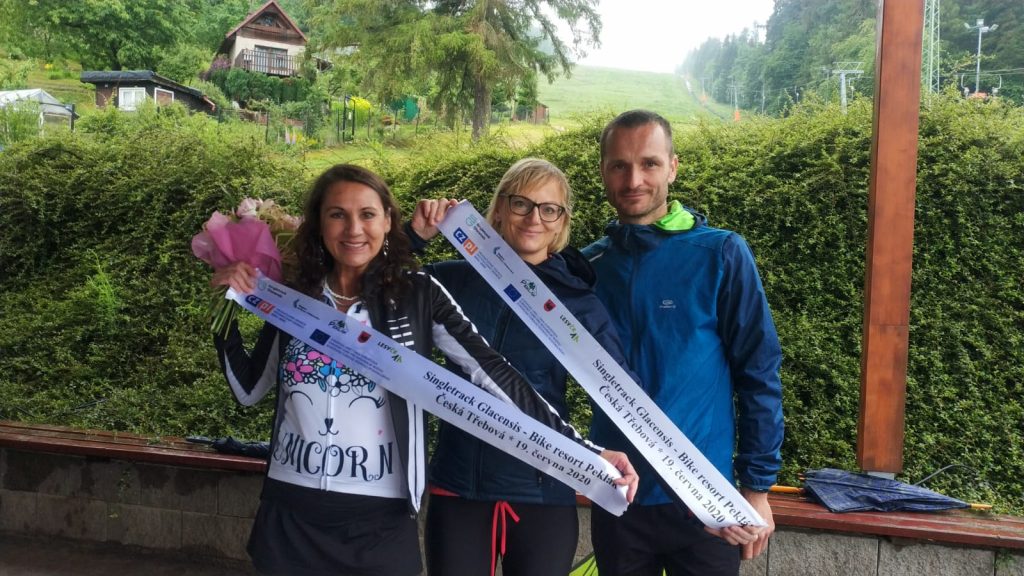 About project
The Singletrack Glacensis is the largest network of bicycle routes leading on narrow forest roads, in mountainous terrain. All routes are unidirectional and have different levels of difficulty. A total of 220 km long network of functionally connected loops has been created for tourists, and thanks to these loops we can also visit our Czech neighbours.
The routes are located in the following areas:
1. on the Polish side in communes: Bardo, Kłodzko Rural Commune, Złoty Stok, Lądek-Zdrój, Stronie Śląskie, Bystrzyca Kłodzka, Międzylesie and Kudowa-Zdrój, Dusznik-Zdrój.
2. on the Czech side in communes: Cervena Voda – Union of Orlickie Municipalities, Zdobnice, Orlicko-Trebovsko region, Dolni Morava.
Within the framework of the "Singletrack Glacensis" project, a Czech-Polish route network was built:
1. on Peklák in Česká Třebova: 15 km of singletrack routes of medium and high difficulty, 4 km of ski hills, 25 km of MTB routes with facilities and car parks,
2. in Zdobnice- 10 km of low and medium difficulty recreation routes with a route suitable for children,
3. in the Bystrzyca Kłodzka Municipality:
Spalona (the Bystrzyca Mountains) 14.1 km long recreation loop of low and medium difficulty leading to the Jagodna peak
connection of routes in the Śnieżnik Massif: The Loop under Śnieżnik, the Międzygórze Loop and the Stronie Loop, which start in Międzygórze. The route created under the project is 28.7 km long, of which 20.1 km is the Międzygórze loop itself which is characterized by medium difficulty.
Each loop has an entrance gate, the facilities have been equipped with stations for quick bike repair, stations for charging electric bikes, information boards with route maps, rest shelters. The routes are marked in a recognizable way with a characteristic Singletrack Glacensis logo. More information can be found at:  www.singletrackglacensis.eu, where the routes have been linked to tourist attractions and information about bicycle rentals and services. The mobile map can be found on the following website: www.eziemiaklodzka.pl.
The Singletrack Glacensis application for Traseo, TrialForks for Android, IOS in Polish and English version is available.